The story so far…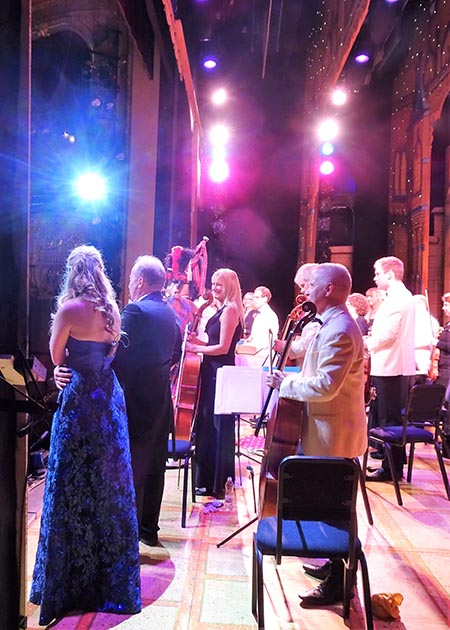 The orchestra was originally formed at the request of the English National Opera to accompany their visiting ballet companies, such as the Bolshoi, Australian, Canadian, Moscow, Berlin, and Stuttgart companies and the Japanese Takarazuka Dance Theatre. Soon it was performing at the Sadler's Wells and touring across the country with the Bolshoi and Moscow ballet companies.
This led to performances with major choral societies such as the Royal Choral Society, the London Welsh Choral Society and the Malcolm Sargent Choral Society, performing at the Royal Albert and Festival Halls. Work with young people began with regular performances on the South Bank and at the Fairfield Halls. Other engagements followed, such as concerts at London's Queen Elizabeth Hall and Birmingham's Symphony Hall and performances in the presence of Her Majesty the Queen and Prince Edward.
Invitations also came from outdoor concert promoters. Soon the orchestra was performing regularly all over Britain with cross-over groups and pop groups, as well as classically trained artists. In the Jubilee year it was honoured to be invited to Chatsworth House to perform a very special concert to over five thousand people, in the private gardens of the Duke and Duchess of Devonshire.
The L.G.O. moved from concert stage to dance floor when it was invited to play, over many years, for the Johan Strauss Society of Great Britain's Annual Ball, under the baton of the renowned Viennese expert John Georgiadis. At the same time the orchestra began to develop its own brand of New Year Viennese concerts, combing popular appeal with new and exciting formats. The L.G.O. promoted their own New Year concerts for over twenty seven years, becoming an integral part of New Year celebrations for thousands of people.
In 2017 it was engaged for the Castle Howard Proms Concert and has been invited back in subsequent years, working with singers such as Lesley Garrett, Sarah Fox and Wynne Evans (of comparison advert fame). Other highlights include playing for the Royal Albert Hall Armistice Celebrations in November 2018 – an event marking 100 years since the liberation of Poland with an audience of five and a half thousand people. In September 2019, the L.G.O. gave a Proms on the Pitch concert to mark the opening of the new rugby stadium at Headingly. It regularly performs at St. Martin's in the Field and Leytonstone in London, the latter being outreach concerts programmed around the needs of local people. As well as its usual busy schedule, the orchestra will be widening its scope again this year by undertaking a national tour of special V.E. day concerts focussing on 1940s music.
Artists…
Placido Domingo, Sir Thomas Allen, Josephine Barstow, Lesley Garrett, Wynne Evans, Sarah Chang, Willard White, Benjamin Grosvenor, Evelyn Glennie, Russell Watson, Aled Jones, Hayley Westenra, Jonathan Ansell, Opera Babes, Blake plus X Factor / Britain's Got  Talent finalists e.g. Paul Potts, G4, Joanne Forest
Venues…
Royal Albert Hall, London Coliseum, Sadler's Wells, Royal Festival Halls, Queen Elizabeth Hall,  Birmingham Symphony Hall, St. Martin's In the Field, St. John's Smith Square, Cadogan Hall, Chatsworth House, Castle Howard, Guisborough Priory, Bedford Park Outdoor Proms, Stansted House, West Wycombe House, Lyceum Theatre in London, plus other theatres across England and Scotland